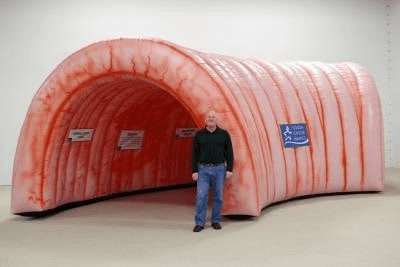 Quality Health Associates of North Dakota now has a Giant Inflatable Colon available for loan.
The Rollin' Colon is an inflatable is an educational reproduction of the human colon, featuring three-dimensional large-scale representations of polyps, colitis, and different stages of colorectal cancer.
Dimensions
10′ High, 32′ Long, 12′ Wide
When packed up for storage or transportation, the inflatable colon takes a space approximately 4′ cubed.
Weight
The total weight of the exhibit is approximately 250lbs including the blower.
Other Requirements
One 110V outlet is required for the blower to keep the exhibit inflated.
Transportation requires a large SUV, pickup, or small trailer.
It is highly recommended to set this up indoors, as the wind can easily move it or blow it down.